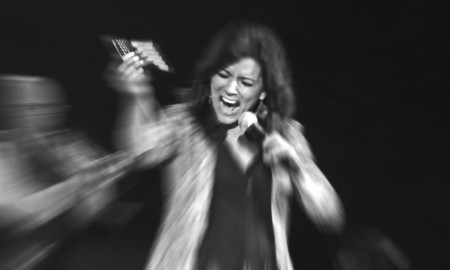 Hi all!  Yes it has been a while since I've posted. Good news is I do have some new Sibelius posts coming soon! But I first wanted to share some exciting news about what I've been doing over the past five months.
In August of 2013 I was fortunate to be called to play trombone on Martina McBride's new album "Everlasting" and work with legendary producer Don Was. The album was recorded at Blackbird Studios and in  Nashville. The great horn arrangements on this project were written (in Sibelius) by my friend and Nashville's own Jim Hoke.The horn section consisted of, Vinnie Ciesielski and Steve Patrick on trumpets,Jim Hoke and Randy Leago on saxes and myself on trombone. The album is a collection of some of Martina's favorite classic R&B songs. This project is first class all the way. The production is fabulous, the musicians and vocalists on the tracks are top notch and even the packaging is beautiful and classy! As for Martina McBride, what can I say?  Her performance is classic, stunning, haunting, energizing, I could go on but check out the album and hear it for yourself.
In early 2014 I was asked to play trombone in the horn section for Martina's 2014 tour and I of course jumped at the chance! The touring horn section is Vinnie Ciesielski on trumpet, Tyler Summers on tenor sax, Randy Leago on baritone sax and myself on trombone. For a taste of the tour check out the official video on "Come See About Me."
Martina McBride tour band: vocalists, Shelly Fairchild, Wendy Moten, Shandra Bennett, drums, Greg Herrington, bass Glen Snow, guitar, Greg Foresman, music director/keyboards Jim Medlin, horns, John Hinchey, Randy Leago, Tyler Summers and Vinnie Ciesielski.
It was been a fabulous experience! Martina McBride's management, band and road crew are some of the best in the business and an absolute joy to travel and perform with. So please visit Martina's website and see when we are coming your way. This is a show that is not to be missed! If you are already  Martina McBride fan, fear not! We are doing many of her classic hits but with a new twist. If you are someone who would not normally come to a show by a country artist, you are in for a treat. We are doing the R&B flavored songs from the "Everlasting" album and a few more surprises. Simply put if you are a music lover, do yourself a favor and come see a world class vocalist at the top of her game. I promise you will not be disappointed!
Hinch
P.S. Special thanks to Gary Kirchner for the great photo of Martina McBride in Greely Co. 7/4/2014 at the top of this post.