Make Pitches Constant-Drums is one of my favorite plugins related to creating drum set parts. It is a variation on Stefan Behrisch's very versatile Make Pitches Constant plugin which I mentioned in my previous blog post. Thanks to Roman Molino Dunn for tweaking this version of the plugin and Daniel Spreadbury for posting it to the Sibelius download site.  This plugin works in Sibelius 5 and 6.
If you do any big band or pit band arranging you are probably familiar with the technique of cueing horn section figures in the drum set part for 'kicks.'  The drummer reads the rhythms and creates a drum pattern to accent and support what is being played by the horns.  The horn section rhythms appear above the top line of the staff as cue sized notes and rests along with slashes (beat no stem) on the mid line of the staff.  Without this plugin it's not difficult to create but it does take quite a few steps.  With this plugin you can achieve all of this in 2 steps.
Here's an example of a trumpet staff and a drum set staff.  The trumpet staff has the notes and rests that represent the phrase you want to show in the drum set part.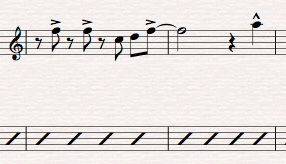 Copy the trumpet phrase into the drum set part.  If you use the opt/click method to copy, the blue box will still be active around the phrase.  If not, select the bars with the phrase so you have the blue box.

Now go to the Plug-ins menu and select the Make Pitches Constant-Drums plugin.  The plugin window opens with these parameters selected, DON'T CHANGE ANYTHING, just click OK.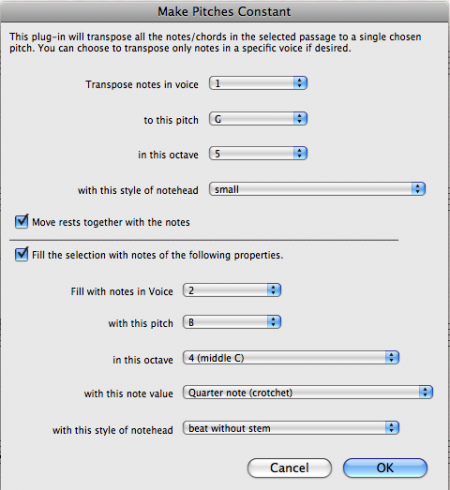 And the plugin creates this in the drum set part.

The plugin is so useful I've created a keyboard shortcut for it.  When I'm working, it's a matter of copying in the trumpet line and typing control-D and I'm done!
Hinch