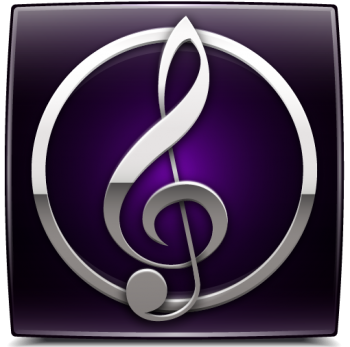 Avid recently released Sibelius 7 and as usual the folks who develop this award winning software have come up with some great new features. But what is really creating quite a buzz, especially from long time users of Sibelius is a new user interface called 'The Ribbon.'
DON'T PANIC!
If you came from the pencil and paper school, you may remember when notation software came along and you screamed, "What! I have to learn to run a computer to get my music on paper!" But like many composers and arrangers, if not most, you found that after a short while, you were producing scores and parts quickly and finding all sorts of advantages to using notation software as part of your workflow. So now, you are quite comfortable in your routine with Sibelius 6 and here comes Sibelius 7. "What! I have to learn a new interface to use Sibelius to get my music on paper!"
Repeat after me "Change is good"
To quote the "What's New in Sibelius 7" PDF in the Help menu, "Sibelius has undergone a radical transformation of it's user interface for Sibelius 7." That certainly is the case! Speaking for myself, after using the ribbon for a short while, I've discovered three things:
First: Sibelius 7, in most respects, is still the same great notation program 'under the hood.'
Second: There are some really great new features in this version.
Third: There are some really cool organizational redesigns that going to be really helpful.
You can readily read about all the new big enhancements such as the new sounds, musicXML export, 64 bit etc on the Sibelius website.  But let me bring to your attention some new enhancements that you might not notice at first glance.
Three Cool New ch, ch, ch, changes (click for soundtrack)
When it comes to an efficient workflow, organization is key. Sibelius 7 introduces some "house keeping" enhancements that aren't as flashy as the more high profile features. But pro users working on tight deadlines may find these to be some of the real pluses in this upgrade.
1. Finding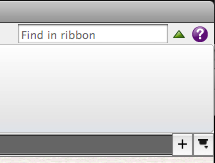 A "Find box" as been added to the ribbon. In the short term, this will be an easy way to quickly find the location of things in the ribbon that were formerly in the pull down menus of Sibelius 6. In the long term this will be really handy for quickly finding plugins and other options you don't use all the time. Perhaps you don't write for harp everyday, "What was the name of that plugin to check harp pedaling?"

Type 'harp pedaling' in the find box, you get a list of choices, click on what you need and Sibelius takes you right to the plugin or ribbon item, cool!
2. Sorting
In Sibelius 6 if you want a symbol, you are presented with an extensive grid with all the symbols and scroll bars to navigate through the choices. In Sibelius 7 you now have a quick way to narrow your search. Notice when you open the symbols window in the upper left corner there is a drop down menu marked "All."

Click on this and you see all the symbol categories. Click on the category you need and your search is narrowed down.

After you input a symbol you'll notice a new panel at the top of the symbol window for "Used" symbols. This is very handy for symbols used over and over again in a score. 

You'll find the same sorting method for Lines, Text Styles, Filters and Plugins, very cool!
3. Filing
In the new Quick start window of Sibelius 7 you will find tabs organizing the manuscript paper by genre,  This will help you find the right manuscript paper very quickly.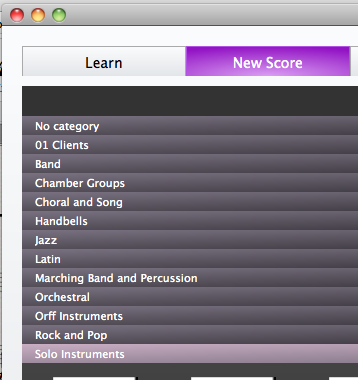 When you export a new manuscript paper you have the option of adding it to existing categories or creating a new category. You'll see I have a category for clients. Now you don't have wade through an alphabetical list of all your manuscript papers. 

There is also a find box in the Quick start window to help you find just the right manuscript paper.  Do you need the ever elusive "Mariachi Band" manuscript paper?
  Just type "mariachi" into the find box and there you have it!  Again, cool!
More on Sibelius 7 in future blog posts.
Note: I haven't been blogging much this year. But I do appreciate all the emails I've been getting encouraging me to continue. So, I'm back! Watch for more posts in the near future.
Hinch