Here's a quick tip that you might not use every day but could come in very handy.
The situation is this:  You need to display a staff as a small staff in a particular part but in the score and perhaps another part the staff needs to still be the normal size.
Sometimes what happens in parts stays in parts
Dynamic parts is a really great feature of Sibelius.  For many musical elements in a part, if you change it in the part it changes in the score.  But there are some things that if changed in the part, are not changed in the score.  And this tip takes advantage of one of those.
Here is the an example, you need to have the top staff display as a small staff in this part but normal in the score.

Open the part you are working on from the tab Parts in Sibelius 7 or from the parts window in Sibelius 6.  Now open the Create parts dialog from the tab Parts in Sibelius 7  or  go to the Create menu in Sibelius 6 and select 'Instruments.'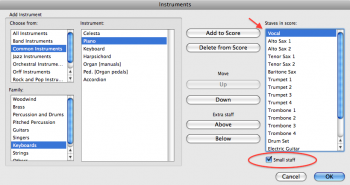 In this window you'll see all the staves in your score, even the ones not in this particular part.  Choose the staff (or staves) you would need to be the small.  Then check the "Small staff" check box at the bottom of the list on the right. In this case it's the vocal staff.  Next, click OK.  Now you have your small staff in the part but not the score.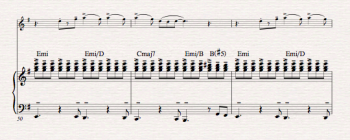 By the way if you want staff to be small in the score and the parts, open the score and then go to the Create parts dialogue in Sibelius 7 or 'Instruments' in the Create menu of Sibelius 6 and check the "Small staff" check box there.  Now the staff will be small in score and parts.
Hinch