When it comes to rehearsal marks my personal preference is using bar numbers. But many arrangers use rehearsal letters A, B,C etc and there is a really good case to made for letters rather than numbers in many situations. One example is, if you use rehearsal letters and revise a score by deleting for adding bars, the chorus at letter C is still at letter C even after the repeated edits. This can simplify certain rehearsal situations.
A very common practice I've run into is, arrangers using A for verses, B for the bridge or channel, C for chorus, D, E etc would be instrumental solos, tags, any section different from a verse, bridge or chorus. Following this line of thought some arrangers use A1 for verse one, A2 for verse two, C1 for chorus 1, C2 for chorus 2 and then B for the first appearance of the bridge which could be after 2 verses and a chorus. The sequence of rehearsal letters would be A1, C1, A2, C2, B. If you use rehearsal letters in Sibelius you can see where this creates bit of a conundrum as Sibelius defaults to the letters in the usual order A to Z and then starts a sequence of A1, B1 or AA, BB.
Sibelius does have a way for you to opt out of the default and set up a non consecutive rehearsal lettering sequence. And it's quite simple once you know the steps.
Rehearsal Mark review
Before changing the default behavior, you need to know what that is. So the basics are:
1. The style of Rehearsal Marks is set in House Style>Engraving Rules>Rehearsal Marks. This windows allows you to specify A-Z, 1,2,3 or Bar number for your bar number appearance.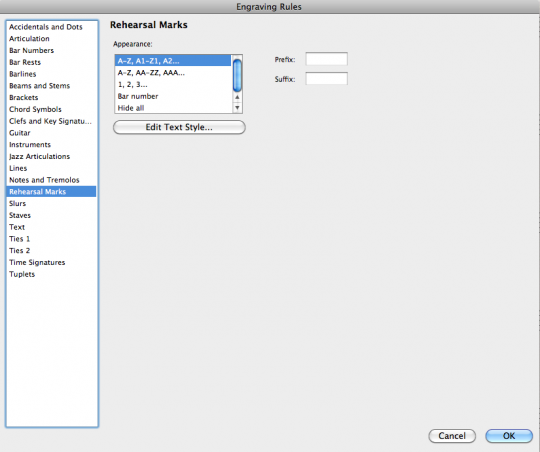 2. To add a rehearsal mark to your score, you select a bar and type command R on the Mac, control R on PC. The rehearsal mark will be a letter, number or bar number depending on how you set up your Engraving Rules>Rehearsal Marks.
3. When you add a rehearsal mark it will be the next letter or number in the sequence. A very handy feature is, if you delete a rehearsal mark the following rehearsal mark updates to the next letter or number in the sequence. For example let's say this is your starting sequence of rehearsal marks.

If you then delete the rehearsal mark B at bar 12, the rehearsal mark at bar 21 will change to B and the following rehearsal marks update as well.

Going back to the original sequence if you added a rehearsal mark at bar 16, it would now be C and the bar 21 mark would be D.
And now for the non consecutive bit…
Let's take a similar form and set up the rehearsal marks in this order: A1 B1 C1 A2 B2 C2 D C3 and we'll add a 4 bar E-outro. Here's how we start out.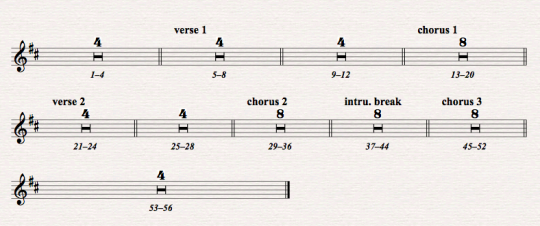 First make sure in House Style>Engraving Rules>Rehearsal Marks you have selected A-Z, A1-Z1, A2…as the appearance.
Next, select bar 5 in your score and go to Create>Rehearsal mark. An important point here is: you have to go to the menu.   You cannot use the key stroke for add rehearsal mark. The window opens and this is where you let Sibelius know we are going off script. Type in A1 for "Start at" this lets Sibelius know you are skipping A-Z and going right to A1.  Now click OK.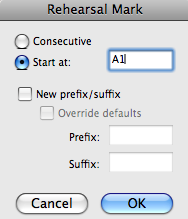 For the next 2 rehearsal marks you can select the appropriate bar and use the normal keystroke command R.  Sibelius continues consecutively.
Bar 9 command R for B1
Bar 13 command R for C1
Bar 21 A2 is created just like A1 Create>Rehearsal, this time type in "Start at" type A2 click OK.
Bar 25 command R for B2
Bar 29 command R for C2
Bar 37  Create>Rehearsal mark this time type in "Start at" type D and then click OK.
You've now told Sibelius you are going back to the beginning of the sequence and you could use command R to continue on to E, F etc. But that is not what we want here.
Bar 45 Create>Rehearsal mark "Start at" type C3 and then click OK
For the last rehearsal make, go back to Create>Rehearsal mark and this time set the window like the example below, letting Sibelius know you want to "Start at" E, over ride the defaults and add the suffix '-outro.'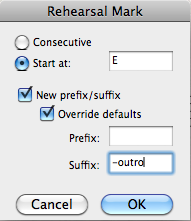 Click OK and you should have this: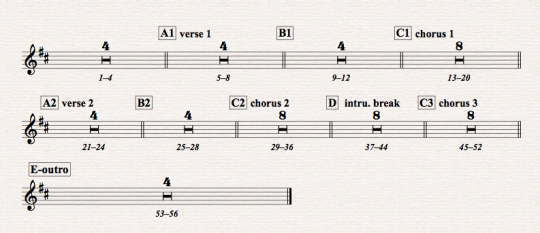 Now you have non consecutive rehearsal letters with all the positioning and design attributes you want them to have.
Hinch