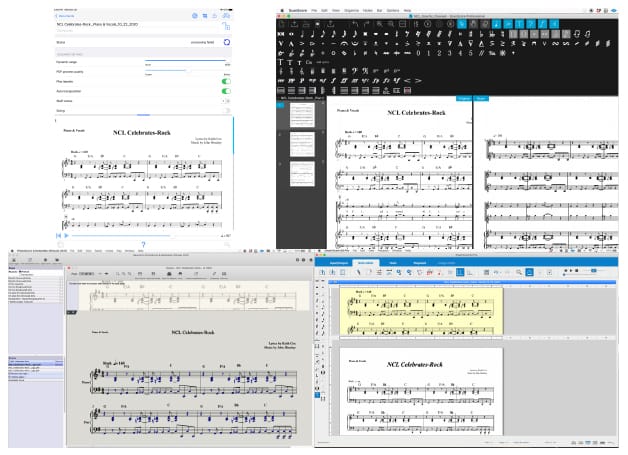 Optimal Music Recognition Software (OMR) apps, also known as 'music scanning' apps, can be a powerful tool in an arranger and music prep professional's toolbox. Recently I did an article for my friend Philip Rothman's Scoring Notes blog reviewing four of the leading OMR apps, PlayScore 2, ScanScore, PhotoScore Ultimate, and SmartScore 64 Professional Edition.
We also recorded a podcast on the topic of using OMR apps and how I use them in my workflow. I would encourage you to listen.
As a companion to that podcast, I wanted to post my checklist and general tips for using OMR software. I have included a downloadable PDF of these tips and the checklist for you here, as well.
Scanning Tips
In the end, I'm just harvesting data. First, I will clean up the scan or PDF output in the OMR app and then export it as a MusicXML file which I will open in my music notation app. The next step is to copy and paste what I need from this rough score into a clean score template. So, bearing this in mind, here are some tips:
Clean up all of the elements that are best done in the scanning app and leave the rest of the editing that can be done more efficiently, for the music notation software app. For example, in my experience lyrics and chord symbols are easier to correct in your music notation app. (See the checklist below)
Check to see if you can define what elements are read by the app. If you have a chart with no fingerings, lyrics, chord symbols, etc. see if you can uncheck those items, so they are not read. Then the app won't assume some stray text is one of these elements.
Don't worry about page layout, you'll take care of that in your music notation app.
Look for patterns, music is often repetitive. If there is a figure that is misread a number of times, correct it once and then copy and paste in the scanning app or delete the other instances leaving a bar rest and do the copy and pasting in your music notation app.
In the end, I'm harvesting data. I will open the MusicXML in a clean document and then copy and paste what I need into a clean score template.
Save your PDF in the native scanning app format, you may need to go back.
You may open the MusicXML output in your music notation app and realize you missed something that would be easier to correct in the scanning app. For example, it's easy to miss a key signature, clef, or rhythm issue that throws off a large part of the score. Instead of trying to correct it in the music notation app, go back and correct it in the OMR app and reexport.
Checklist for OMR Cleanup Before Export
Before export, check the following:
Time signature(s)
Key signature(s)
Clefs
Next, correct rhythm so no bars are missing beats, including ties. (Are ties, ties, or misread as slurs?)
Check accidentals to make sure they have not been misread or are missing.
Grouping of staves and designation of staves, (vocal staves are vocal staves, piano are piano, etc.), especially on optimized systems.
Attach text to correct staffs
Define text styles so they read correctly in MusicXML
Delete any text you are not going to use, to reduce clutter
If you have corrected all of the above you'll get a much cleaner result when opening the MusicXML in your music notation software.
As always, thanks for checking out Notes on Notes!