The great majority of charts I deliver to clients are now attached to an email and sent as PDFs.  No more running to FEDEX and scrambling to get the charts there the next morning.  Charts can instantly be sent anywhere in the world.  This is especially handy for some of my clients, as the PDFs can be downloaded to a cruise ship in the middle the ocean!  Yes, Adobe Acrobat Pro and the Mac PDF print driver have certainly changed the way I do business.
On more that one occasion, I've heard from my clients that they thought I could have formatted the charts to fill up more of the page.  The image they see on the page has wide margins.   I always format my charts so they appear on the page at a legible size and generally with only a 1/2 inch margin, sometimes less.
I send a chart that looks like this: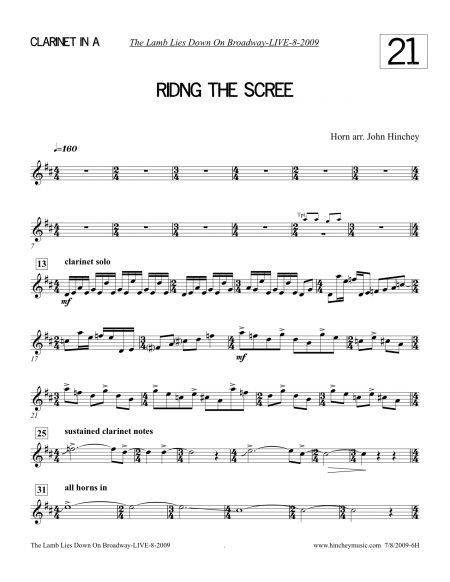 And it prints looking like this: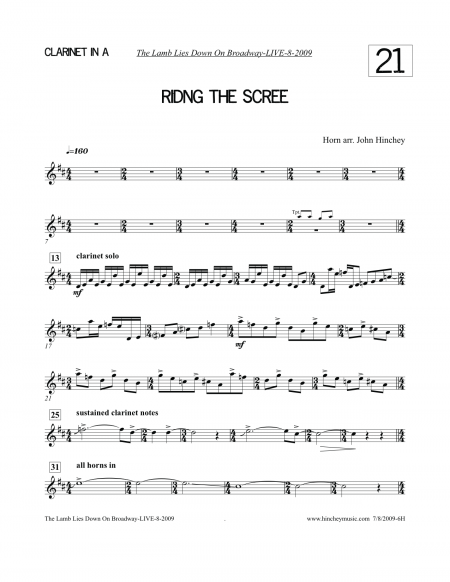 The margins are wider, the text is smaller and most importantly the notes are smaller and a bit more difficult to read.  So what is going on?
Honey I shrunk the charts!
When my clients are printing the PDFs from a PC they are using Acrobat reader or Acrobat pro, when they print from a Mac they may be using Acrobat or more likely Preview.
The default "Page Scaling" in Acrobat (both PC and Mac) is set to "Fit To Printable Area."  With this setting, no matter what size the original image is, it will be reduced to fit the paper size you are printing on.   For many situations this is very handy.  But in the case of scores and parts, Acrobat analyses the formatted image and just to be on the safe side it squeezes that image down to 93% of the original image, so you end up with the wider margins.
The solution is to set the "Page Scaling" to "None." Here is the Acrobat print window on a PC: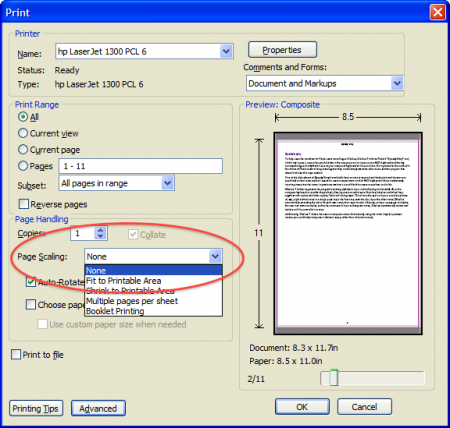 The same window on the Mac version of Acrobat: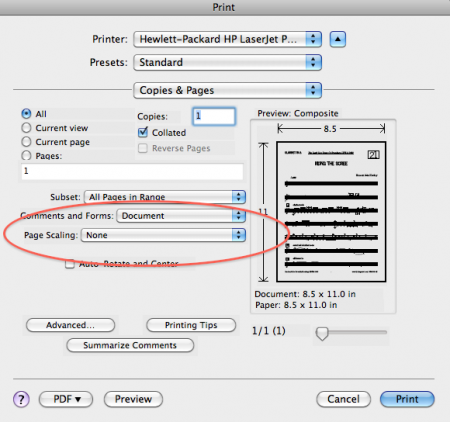 These days most Mac users print PDFs from Preview. In Preview the defaulting scale is set to 100%, so just make sure you haven't changed it somewhere along the way. Here is the Preview print window: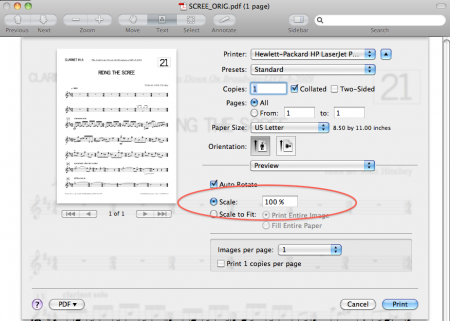 Unfortunately you can't imbed this information in the PDFs you send.  The page scaling is determined by the settings on the computer printing the PDFs.   So give your clients the heads up and send them to this blog post if you like.
Hinch
P.S. Special thanks to the charming and talented Martin Kellogg for providing me with the PC screen grab!