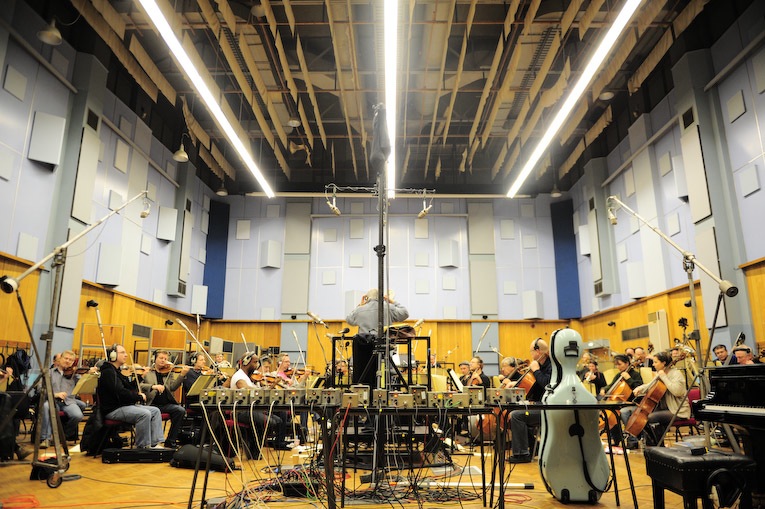 It's taken a while to get my first blog post up this year but here it is!
On January 22nd I had my first trip to London and my first session at Abbey Road Studios.
The producer and engineer for the project was my friend Mark Hornsby.  We recorded 3 of my orchestral arrangements with a 48 piece orchestra consisting of some of the best musicians and London.   It was an amazing experience. Abbey Road studio 1 is the same studio where many classic movie scores were recorded, including all of the Star Wars films. The sound of the room is classic and well worth every inch of it's reputation.
We recorded a new version of the Genesis classic "In The Cage" featuring Nick D'Virgilio on lead vocals. We also recorded the Kevin Gilbert song "A Long Day's Life' from his rock opera "Shaming Of The True," one version using Kevin's original vocals and an a second version with Kat Bowser taking the lead. I will post more info as to when and where these will be released as that information becomes available.
Mark brought along photographer Erick Anderson,  so we've got some fabulous photos of the session. You can see them at Mark's blog on this gallery.
I would like to thank, conductor Rick Wentworth who was fabulous in the session, an absolute joy to work with, my old friend Andrew McKenna for his superb piano playing on the afternoon overdub session, my copyist in London Phil Knights, his work was top notch and I was so glad to finally meet him in person. The staff at Abbey Road is fantastic and saw to our every need. Also thanks to my pal Daniel Spreadbury at Sibelius for all his help. And as always I am so very fortunate to have the love and support of my wife Pam and my daughters Kira and Rachel.
Last but not least thanks to Mark Hornsby for dreaming up this project and making it happen! He never ceases to amaze me!
Hinch