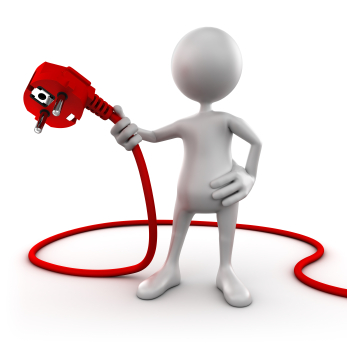 Something that I say over and over again about Sibelius is, if you think to yourself, "There must be an easier way to do this," there probably is. Often the "easier way" is found in the form of a plug-in. A plug-in is a small program that works within a larger program, it this case Sibelius. Plug-ins are great at grouping tasks. You need to get from A to B. The customary steps to accomplish this it may include 2 menu pulls and 4 keystrokes.  A properly designed plug-in can group these tasks so all you need to do is run the plug-in and the same A to B procedure is done in one keystroke or menu pull. I'll be posting from time to time about some of my favorite plug-ins. There are 10 or 12 plug-ins, I use everyday and they really speed up my workflow. There are other plug-ins that I don't use for every project but when I do need them they save a lot of time.
Many plug-ins are included with the Sibelius when it installs. Many more are available for download (at no charge) form the Sibelius website on the Extra plug-ins for Sibelius page. And still more are available for a reasonable charge by independent programmers. One of my favorites is The Music Transcriber, Roman Milano Dunn. He's got some very useful plug-ins and bundles of plug-ins.
The Sibelius website provides you with details instructions on How to install plug-ins.
This series of blog posts will introduce you to some of my favorite plug-ins.
Changing Instrument Names
Here is the "There must be an easier way" scenario. You start a new score from one of your manuscript papers but you need to augment the orchestration. So you add staves for 2 more trumpets, 2 more trombone, 2 horns, an extra keyboard etc. Now you need to edit all those new instrument names in score so you have trumpets 1, 2, 3, 4, trombones 1, 2, 3, 4 etc. The customary way to do this is to click on every full instrument name in the score and then on each short instrument name and type in the correct designation.
Wouldn't be easier, if you could have a spreadsheet style interface with all the instrument names in the score that you could type in and tab through?
Yeah, there is a plug-in for that
It's called Edit Instrument Names. This plugin was written by Bob Zawalich, who has programmed hundreds of great Sibelius plugins.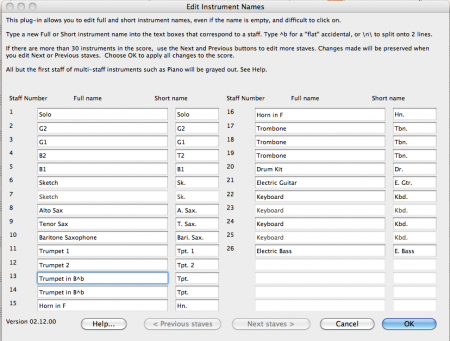 It is very easy to use. Just type in the names you want and you can tab through the text boxes. When you are done click, OK and that is it!
Check back for more posts on my favorite plugins.
Hinch