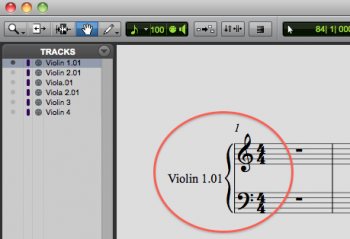 Well here's a first, a blog post with a ProTools tip!  To be honest I don't use ProTools a lot, Digital Performer is my DAW of choice.  But a lot people do use ProTools and I'm often sent Protools files by my clients.  Sometimes I am transcribing from audio or adding orchestration to existing tracks.  But on occasion the client has MIDI tracks in ProTools that they need me to turn into notes on paper.  Generally this means they want me to export the tracks to Sibelius and do detailed charts.  But for quick "throw away" charts for certain recording projects, the output of the score editor is fine.  Except for one caveat…
Score Editor
ProTools has a built in score editor that represents the MIDI tracks as traditional notes on a page.  You can create a very basic but useable score and parts from the score editor window and print them out.   The catch is, when you open a track in the score editor, the default is to show it on a grand staff.  So if you have a violin track the score editor automatically shows it on the grand staff, not a single staff.   I've had several frustrated ProTools users tell me there isn't a way to change this to a single staff.  But there is!
Notation Display Track Settings
Here's how you do it.   First open a track in the score editor window.  On the left there is a "TRACKS" column and there is a little gray triangle in a circle (I've circled it in red here) click on that.  By the way, these screen shots are from M-powered Protools 9 but whatever version you are using it will look similar.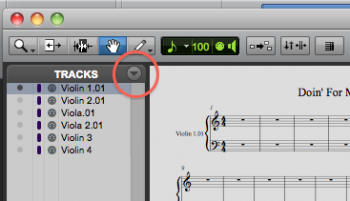 There is a drop down menu and you want to select "Notation Display Track Settings…"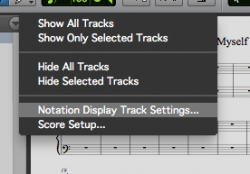 There are all sorts of lovely bits you can edit here but what you want for this is "Clef."  Click on "Grand Staff" and you get this drop down menu.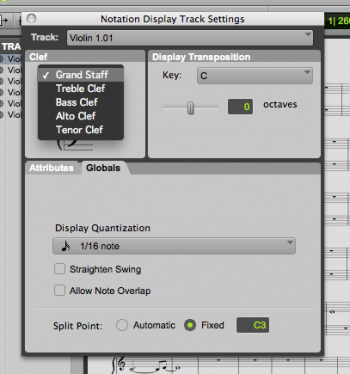 Select the clef you require, for violin "Treble Clef" will do the trick, "Alto Clef" for violas, "Bass Clef" for cellos, but I'm sure you know all that!  Now you have a violin part on a single treble staff.  And for that quick "throw away" part it may be all you need.  Now you can adjust the clefs for all of you tracks right here with out leaving this window.  Click on the pull down menu next to "Track:" select the track, select the clef.  When you go back to your score editor window, each track will be on a single staff, with the right clef.
Hinch