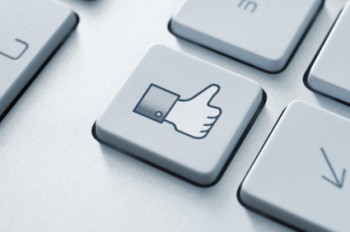 Weather it's pulling down a menu in Sibelius 6 or pointing and clicking on the ribbon in Sibelius 7, using your mouse, track ball or trackpad is not the most efficient way to select what you need. If you a Mac user, when was the last time you went to the edit menu in any of your applications and selected command X to cut something?  The answer is probably never or at least not in a long time.  You learned early on that command X is cut, command C is copy etc.  But for a lot users it stops there.  Most, if not all, applications have application specific keyboard shortcuts that allow you to select the most often used features with a keystroke rather than using your cursor and mouse to select it.  A big bonus for learning the keystrokes is physical.  It is less stress on your hands and forearms to use a keystroke than it is to use the mouse.
How To Learn Keyboard Shortcuts
Here is a simple technique I use to learn keyboard shortcuts.  Every time I go to a menu or the ribbon with my mouse I stop and take note of the keyboard shortcut.  If you select something in the menu bar at the top of your screen it's pretty obvious, the  keyboard shortcut is right next to the item.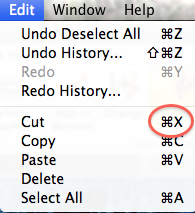 In Sibelius 7, the ribbon items will reveal the corresponding keyboard shortcut if you touch your cursor to the item for just a second or two but  don't click.  The description of the item comes up as well as the keyboard shortcut.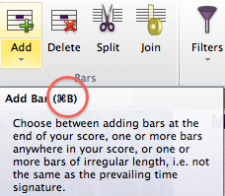 Now here's the drill for learning keyboard shortcuts, it's simple.  DON'T CLICK!  If you find yourself going to the menu or ribbon repeatedly, stop notice the keyboard shortcut and then back off, don't use the menu or ribbon to select it.  Take your hand off the mouse and use the keyboard shortcut!  After you do this a number of times, you will find that you remember the keyboard shortcut when you touch the menu or the ribbon.  Then soon you will automatically go for the keyboard and not the mouse.
What's this?  No keyboard shortcut!
So you have taken my advice and you've decided that the Note Input>Arrange>Explode is something you use a lot.  You mouse over it but lo and  behold: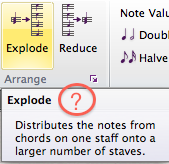 There is no assigned keyboard shortcut!  I guess you'll just have to read my next blog post in this series and find out what to do!
Hinch